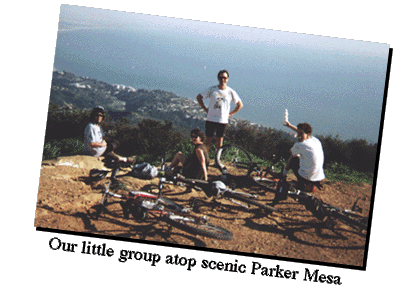 A group of us met on the Keenen show. We found we had a mutual interest in mountain biking. Personally I had been riding in Griffith Park quite a bit, as well as to and from work at Paramount, so I was ready for some real mountains for a change.
We started on the trails in the Santa Monica range. Up and down "Dirt Mulholland" there are numerous trails leading down various canyons and along the ridge tops. Sullivan Canyon, Will Rogers Backbone Trail, and Parker Mesa Overlook are all popular rides, many originating from "The Hub", a trail junction high in the mountains. For a change of scenery we tried Verdugo Mtn. as well.
Nothing we had done before prepared us for what Jimmy and I were up against one Sunday when we decided to venture into the San Gabriels and the Angeles National Forest.
It started as a little ride up to Echo Mtn. Once the terminus of an incline railway where passengers could enjoy a mountain retreat at the Echo Mtn. House or board the trolleys of the Mt. Lowe Line to other attractions like the Alpine Tavern, all minutes from downtown Los Angeles thanks to the old Red Car system. Of course all these structures have since been demolished and the railways abandoned, but some fascinating ruins remain, if you like that kind of thing.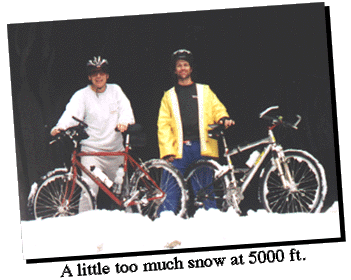 Wanting to make our trip a little more interesting, rather than going up to Echo Mtn. and back, we took one car up to 5,000 feet intending to descend the entire route of the Mt. Lowe Railway. Unfortunately, 8 inches of snow on the trail made this impossible, not that we didn't try.
Descending 1000 feet or so brought us to Switzer campground and a trail that seemed doable. This one would take us down along the Arroyo Seco past Switzer Falls before heading up Bear Canyon to meet back up with the Mt. Lowe Railway fire road again. The little red squiggle on the map gave little clue of the difficulty and poor condition of the trail once we began climbing up Bear Canyon. Often times rock slides and tree falls completely obliterated the trail. It was late in the afternoon and progress was slow. Stream crossings were numerous and difficult. It had rained a little and we were wet with sweat as well. Soon we were completely exhausted, the sun was going down and we were facing the unsavory prospect of spending the night in the wilderness.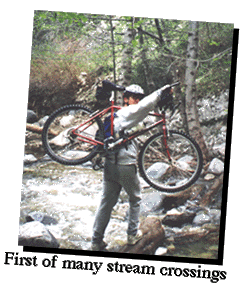 Taking stock of the situation, we had several things going for us. Jimmy had the foresight to include a space blanket in his kit. I had emergency medical supplies, amazingly neither of us was injured. We found the remains of an old stone hut in which we decided to hunker down, and each of us carried a Bic lighter, but no flashlights. In the gathering gloom we quickly searched for some firewood and, using my San Gabriel trail guidebook as kindling (how fitting) we tried to start a fire. The ground was wet and the first attempt failed. Finding a couple of cylindrical objects in the hut we laid the twigs across them and soon had a nice little fire in the corner of the hut. Unfortunately, one of the cylindrical objects was a can, still full, and sealed. As we sat dozing, staring dully at the fire, perhaps wondering if the bottom of the can always looked swollen like that, there was an explosion. It was louder then hell, Jimmy jumped eight feet. I was left standing there, covered with what ever glop was once inside that can, staring at what was once my beautiful fire, now a widely scattered bed of embers in the dark. Now things were getting ugly. We curled up on the ground under our one space blanket to wait for morning.
What saved us was, our friends. I had called around that morning to see who wanted to go, and described the trip to several people, so at dark when Jimmy didn't show up at home, his girl friend Tammy called our friend Cour who found my car at the bottom of the trail and called the Sheriff.



The Montrose Sheriff's Mountain Rescue had set up a base camp at Switzers where they found Jimmy's truck. The Altadena Sheriffs were down below, waiting for word from above about which way we had come. Once the Montrose team found signs of our passage into Bear Canyon (they found my tool kit which had broken off my bike) the Altadena Mountain Rescue team was directed down into Bear Canyon from the top of Mt. Lowe.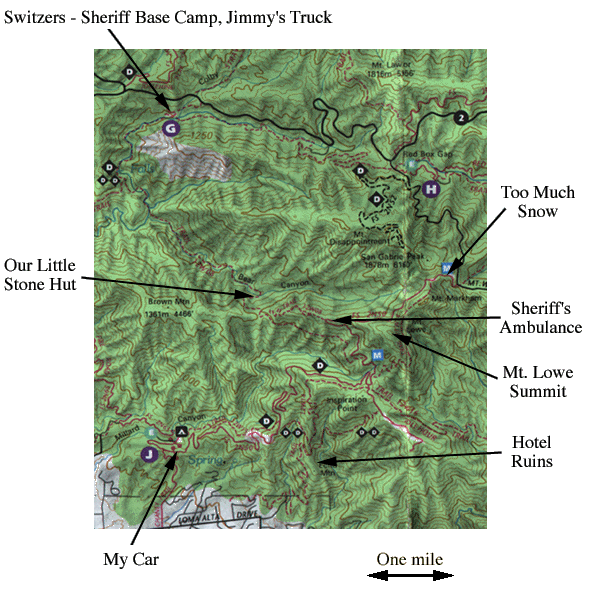 It was about 3am when John and Tony, from the Altadena Sheriff's Mountain Rescue found us, wet, cold, and miserable, in our little stone hut. Believe me, we were never happier to see anyone. We had assumed no one would come until the morning, if then, and we would of been in pretty bad shape. John and Tony brought dry clothes, food and water and, best of all, their smiling faces. They alerted the other teams that we had been found, collected our bikes and us, and we all hiked up to meet Ron and Jeff, who were waiting at the top with the Sheriff Dept's ambulance.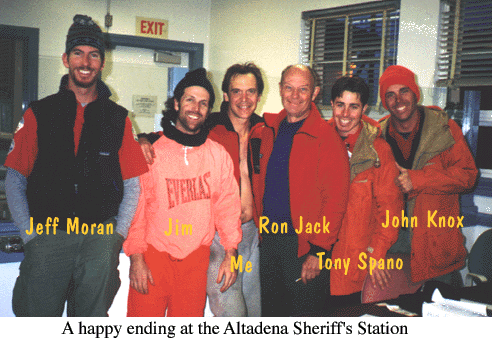 On behalf of Jim and myself, I'd like to thank the Montrose and Altadena Sheriff's Mountain Rescue Teams, a volunteer organization, for their utmost skill and professionalism, and a special heartfelt thanks to John Knox, and Tony Spano, who found our sorry asses down in Bear Canyon that morning.