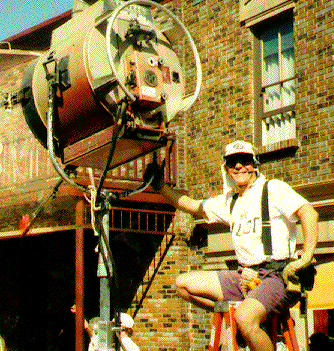 Jeff Durling
E-Mail: liteme at jeffdurling.com
Pictured on the set of Walter Hill's "Wild Bill"
Background
More than 25 years of experience encompassing many different aspects of entertainment lighting. Lighting Director for rock group KISS from 1982 - 1988. More recently, lighting technician for film and television, including, NBC's hit comedy, "Frasier". Also, Chief Lighting Technician for the "Yanni Tribute" video, the ill fated "Keenen Ivory Wayans Show", and the even more short lived "The Magic Hour".
Filmography
Ladykillers (2003) - This is a remake of the 1955 British Ealing comedy "The Ladykillers", starring Sir Alec Guiness and Peter Sellers.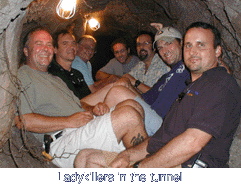 Tom Hanks is playing the professor that Guinness played in the original. The plot of an eccentric professor-turned-criminal-mastermind (Hanks) to commit the massive heist of a New Orleans riverboat casino appears to be thwarted by the actions of the seemingly -innocent little old landlady, Mrs. Munson, of the house that he and his three accomplices are staying in, and which is integral to their scheme (they want to dig a tunnel from it to where the casino's money is kept). My third Coen brothers picture.
Pictured Left to Right: Gaffer Randy Woodside, Jeff Durling, Stu Spohn, Russel Ayer, Ric Delgado, Bruce Sharp, Best Boy Julian DeLaPena.
Raising Helen (2003) - Do we really need another Kate Hudson movie? Directed by Garry Marshall. Wait for the DVD to see me on the gag reel. I'm the one dancing a pseudo Irish jig in front of a golf cart with a balloon on top. Don't ask me why.
The Last Samurai (2002) - Tom Cruise stars. Lots of furrowed brows, scowling, and chopping off of various body parts.
Intolerable Cruelty (2002) - A slick Beverly Hills divorce lawyer (Clooney) frames the wife (Zeta-Jones) of a client to get him released from the marriage without a settlement. She vows to get revenge by marrying the attorney, aiming to take him to the cleaners in their own savage divorce, but what she doesn't expect is that she falls in love with him in the process... My second Coen brothers film. Shot ten days at Caesar's in Vegas. So much for savings!

Anger Management (2002) - After a small misunderstanding aboard an airplane escalates out of control, timid businessman Dave Buznik (Adam Sandler) is ordered by the court to undergo anger management therapy at the hands of specialist Dr. Buddy Rydell (Jack Nicholson). Jack and Adam are both big sports fans. We had a satellite TV guy following us around on location so everyone could watch Lakers' away games. Jack always went to the home games, no matter what we were shooting.
The Time Machine (2001) - Big budget Special effects project for Dreamworks. All those flashing lights? That was me. Oh but how bad is this movie? Very!
Vanilla Sky (2001) - Remake of the Spanish language film "Open Your Eyes". Stars Tom Cruise.
The Man Who Wasn't There (2000) - I'm deeply impressed by the Coen brothers' grasp of their craft These guys know what they want and don't spend all day getting it.
Almost Famous (2000) - Written and Directed by Cameron Crowe, this Rock and Roll coming of age story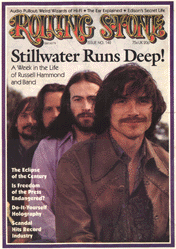 roughly parallels his own experiences as a contributing writer for Rolling Stone Magazine. Sent out in the mid 70's to cover the band "Stillwater" at age fifteen, the film's hero finds love, sex, drugs, and Rock and Roll. I got goose bumps from time to time on the set of this one. The story resonates oddly with my own experiences a decade later.
L.A. Confidential (1996) - Excellent adaptation of James Ellroy's book. Plenty of gratuitous violence, drugs, sex, and perversion. Includes a smattering of big names such as Kevin Spacey, Danny DeVito, and Kim Basinger. A neo-noir classic
Wild Bill (1995) - Odd revisionist take on Wild Bill Hickok, the legendary hell-raiser of the Old West. The title of the film really should be THE ASSASSINATION OF WILD BILL, because that's what it's all about, and not the most pleasant subject in the world, to be sure. Of course, there are those opium dreams to break the monotony....

The Empty Mirror (1994) - In a set which could be the bunker where he lived his last days, Adolf Hitler dictates his memoirs while newsreels illustrate his irresistible rise. Goebbels and Goering come to talk with their Fürher, then Eva Braun enters under the sarcastic eyes of Sigmund Freud. However, the crazy machinery grows out of control and the old, lonely and dying monster desperately tries to go through the looking glass, for the last time... I finally saw this at the AFI film festival and all I can say is.......I'm sorry
The Program (1993) - Seriously flawed attempt to examine the problems of college football players, and expose abuses in contemporary university sports programs. Highlighted by James Caan and director David Ward screaming at each other on the set. Says Caan of co-star Craig Scheffer, "Its like working with a monkey!". Shot at Duke Universtiy, and at USC in Columbia SC. Disney had to cut out the "lying in the middle of the road" scene when two morons tried it after seeing the movie.
The Real McCoy (1993) - Kim Basinger cast as a cat burglar/ex-con who wants to go straight, but is forced into pulling off one last heist when her son is kidnapped. Has a happy ending, but please don't give Kim anymore complicated props to handle. Thank God they cut out the awkward love scene between Basinger and Val Kilmer, filmed on the beach in Georgia's Stone Mountain Park, and re-shot on a pile of sand in a warehouse north of Atlanta. Ah, the magic of film!
Trespass (1992) -Two white firemen get wind that ancient treasure is buried in a slummy building, little knowing that the structure they've invaded is headquarters for a band of very tough, black, drug pushers. Fast, furious, culturally disreputable entertainment. Filmed mostly on location in Atlanta at the "Old Mill", also used for some exteriors for "Freejack". This production coincided with my moving to Savannah, GA. Nice explosions and fire gags.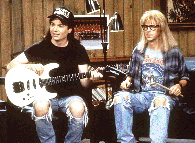 Wayne's World (1992) - Mike Myers and Dana Carvey are funny as the self-styled party dudes with their own cable TV show, and leading lady Carrere is certainly a "babe". Being on the set with her in a swimsuit was very, uh, distracting. I think I got my own credit on this film as "Dimmer Operator". Might have been Star Trek, I forget.
Star Trek VI (1991) - This dreary cold war allegory is pompously over directed by Nickolas Meyers. I've always been a big Trek fan though so it was a thrill working with the original cast on what I'm sure will be their last film together. The whole cast autographed the cover of the script for me. See The Script Cover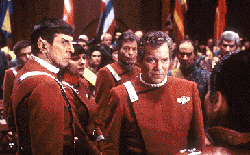 Ricochet (1991) - Street cop (Denzel Washington) becomes a citywide hero when he brings down bad-guy (John Lithgow) - little dreaming that the psycho spends every waking moment in prison planning his revenge. We blew up a building in downtown L.A. for this one. I think I was sitting too close, that sucker was hot!
The Rocketeer (1991) - A back pack turns Bill Campbell into a rocket-man/hero. Film captures the look of the 30s, thanks to cinematographer Hiro Narita. Great special effects and flying sequences. Sadly, Disney has some kind of policy about the length if the credits so many of the hard working crew, including me, weren't acknowledged. Joe Johnston, I accept your apology. But hey, I'm not bitter!
Pump Up the Volume (1990) -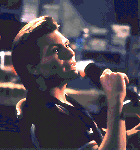 Christian Slater is terrific as Hard Harry, a high school kid by day who runs a pirate radio station by night, stirring up passions among his young listeners, and enraging the adult population in the process. Lots of location shooting at Saugus High School near Valencia. My first screen credit!
Career Opportunities (1990) - I got a screen credit on this one even though I didn't do the tortuous nights of location shooting at a Target store in Atlanta. Frank Whaley (again) stars with Jennifer Conneley. Fast forward through the rollerskating montage!
Cold Dog Soup (1988) -This film was my "Big Break" in the Industry. Although beautifully photographed by Frederick Elmes ("Blue Velvet", "River's Edge")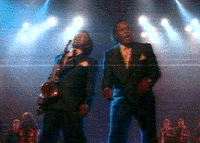 this film was never released in the U.S.! It did serve a purpose though, the show organized and I was able to join the union. Starred Frank Whaley and Randy Quaid.
Tapeheads (1988) - This wacky musical comedy was my first exposure to the film industry proper. It was produced by none other then Michael Nesmith (yeah the guy from the Monkees). I was hired to install a rock and roll lighting rig in a Pasadena auditorium for the climatic scene of the film. Look carefully and you may see me in the audience behind the lighting board!


Favorite Links

My KISS Page - as long as you're here what the hell? It won't kill ya! Now with embedded Quicktime movies!


L.A. Police Scanner - Listen to all the violence and mayhem of L.A. live! Its just like being here!


L.A. Freeway Speeds - I never leave the house without checking here first! Updated every few minutes or so.


Paramount Pictures - Check here for the latest Paramount films. Also other Paramount productions, like Frasier!


NASA Jet Propulsion Laboratory - Lots of cool stuff, including the latest from the Jupiter probe "Galileo"


Los Angeles earthquake map - Did you feel that? Check here to find out if it was the Big One.


Last updated on Sunday, August 17, 2003